You know, I've gotten all caught up in sharing sketchbook drawings here, that I neglected to share with you some real work that I did that was published in 2020. Let's remedy that, shall we?
So, here's the set-up… my friend, Grant Geissman, wrote a terrific (and quite gigantic) book about the history of EC Comics that was published by Taschen. Not only is it 594 pages long, but the sucker weighs in at 13lbs, and measures a whopping 11.5×16″!! It's so big, that this coffee table book could actually BE the coffee table!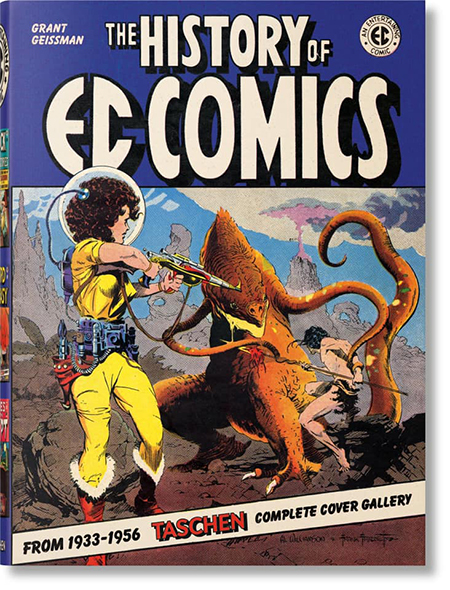 All kidding aside, it really is a comprehensive look at the comic kingdom first created by M.C. Gaines, later headed up by his son Bill Gaines who, among his accomplishments, published MAD Magazine.
Grant popped over to my place last May to bring me a copy of his beautiful tome, and in return, I gave him this piece I did of William Gaines (who whould have been 100 last month) in all his EC Comics glory capturing the moment he was about to step into MAD. You get the idea.
Part of my excitement for Grant's work here is that he invited me to be a part of the imagery in the book. He had two vintage pieces of art that had originally been in color, but color reproductions of them had been lost to the ages. So Grant asked me to colorize the two pieces, one drawn by Irwin Hasen, and the other by Shelly Moldoff.
This great piece by Irwin Hasen was drawn as a gift for his boss, M.C. Gaines long ago. I was thrilled to color this because I had been acquainted with Irwin back when he was still with us, and had grown up reading his syndicated comic strip in newspapers called Dondi. I even have two originals I got from Irwin back when I first got into the cartooning business, and am humbled to be pictured in another book Irwin is also in called The Artist Within Book 2 by Greg Preston.
And here's the second piece I colored that Sheldon Moldoff drew.
A hearty conGRANTulations go out to Grant for seeing the years of his research and writing come to fruition in such a beautiful tome!
By the way, Grant's day job is as a musician and composer! He's played with many great music folks over the years such as Chuck Mangione, Liza Minelli, Steve Tyrell, Josh Groban, etc, and he has written music for television shows such as Two and a Half Men, Mike and Molly, and more recently B Positive.