As we enter the Christmas week of a second strange year in a row, I wanted to share with you my official Christmas card for 2021. The art itself was created with watercolor, gouache, and colored pencil – a little handmade touch in this digital world of ours.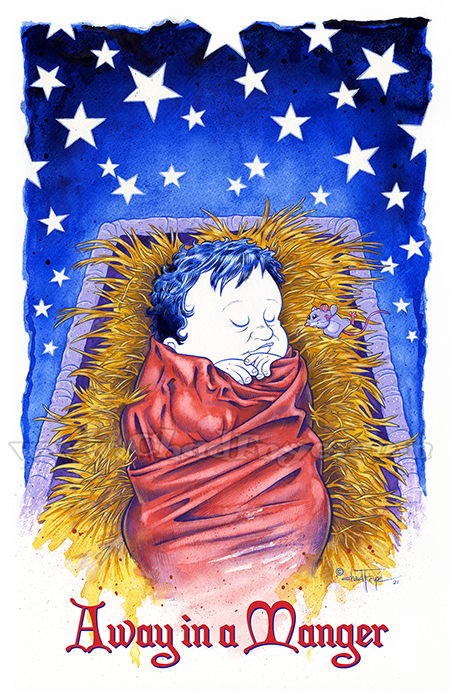 Away in a Manger is one of the most popular Christmas hymns ever written. Strangely enough, its origin is one of dubious distinction, for it is unclear as to who are the authors.
The first publication of the poem was in 1882 by an anonymous author, and only included the first two stanzas. Confusion reined as to authorship, because the lyrics were titled Luther's Cradle Song, saying that the poem was written by Martin Luther for his children in the 1500s. Perhaps this was just a fanciful claim by "Anonymous" to lend importance to the words, because there has never been found any version written in Luther's native German predating this American publication. People read it, believed it, and perpetuated the false Luther authorship idea in continued publications for many years. In 1892, the third and final stanza was published with attribution once again falsely going to Luther. Others later laid claim to writing the third stanza, so the authorship continued to be muddy.
Musically, this song has been performed in dozens of settings, however, just two continue to remain popular to this day. The version that starts on a high note and is sung by many in the United States was published in 1887 by James R. Murray who falsely claimed Martin Luther also wrote the tune. By 1914, the melody was attributed to someone named Carl Meuller, a man who is otherwise unknown to history. So, even with this, we really don't know who the composer is!
The other popular melody we know today that starts on a deeper note was written by William J. Kirkpatrick and first published in 1895. It is his version that carried this Christmas song beyond America's borders to become beloved around the world.
Kirkpatrick was born in Ireland, and later moved to America where he settled in the Philadelphia area, eventually becoming involved in being a church organist and composer for the Methodist Episcopal denomination. Whether written on his own or with writing partner John R. Sweney, Kirkpatrick published many hymns that richly live on to this day such as 'Tis So Sweet to Trust in Jesus, Blessed Be Thy Name, Will Your Anchor Hold, A Wonderful Savior is Jesus My Lord, Redeemed, O To Be Like Thee, Lead Me to Calvary, We Have an Anchor, and My Faith Has Found a Resting Place.
William J. Kirkpatrick passed away in 1921 while working on a new hymn at his desk. This past August, I visited his grave at the West Laurel Hill Cemetery near Philadelphia.
If only we all could leave behind such a legacy.